Brushless motor for RC
Compares with 1.20 glow system.
Suggested setup:
Prop: 21×15
Batteries: 8S LiPo
Output: 6,100 RPMs, 2,800 watts
Motor weight: 743g
Shaft: 8mm
Includes prop adapter.
Suggested ESC – CASTLE EDGE 120HV
PLEASE REFER TO DRAWING BELOW FOR DIMENSIONS.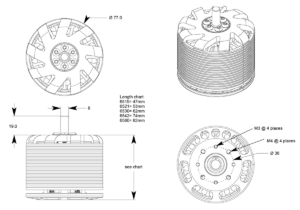 ECalc simulation — don't forget to click "CALCULATE" button!