High-powered brushless systems are not for beginners.  High power, high DC voltages and high amperages used in these systems can result in serious damage or injury if not used properly.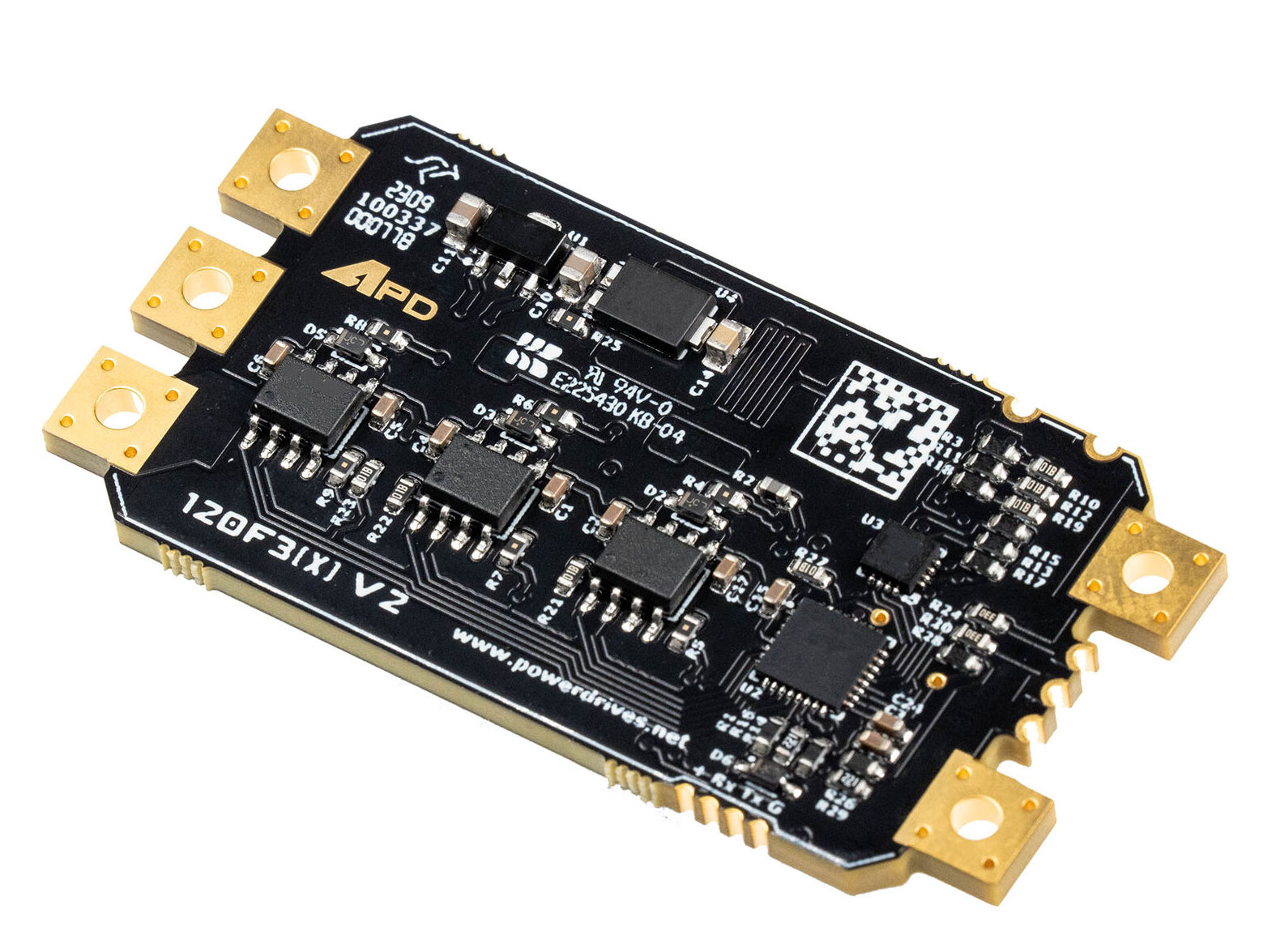 The improved F_Series 120F3[X] ESCs build upon APD's trusted ARM 32-bit architecture. The V2 release introduce a number of highly requested features into the product range, including configuration options, Bi-Directional DShot, and UART overvoltage protection. The 120F3[X]v2 ESCs are drop-in replaceable to 120F3[X] units. As before, existing features include PWM-frequency dithering and Active Phase-Current Demagnetisation, allowing for smooth control with virtually all powertrain combinations with peak power outputs of up to 9 kW
Feature Set (V2 March 2023)
• Configuration of drive parameters, signal types and fault handling
• Bi-Directional DShot for RPM Filtering support
• On board bootloader
• Passthrough firmware updating and configuration
• Additional Telemetry types: PWM Telemetry and RPM Output
• High-speed telemetry rates when operating DShot and ProShot
• Reversible operation support (full forwards to full reverse)
• Dynamic signal quality checks across supported input protocols
• Hardware protection for UART programming pins
Existing Feature Set
• Designed and manufactured in Australia using only the highest quality components, ensuring no sacrifice in reliability
• Proprietary firmware designed in Australia
• Plug and play firmware
• Up to 12S (50.4 V) capable
• Up to 120 A continuous* output current
• 200 A Burst current
• True 10-bit resolution
• Virtually no setup time, with a simple motor reverse solder tab
• Auto-detect ProShot or DShot
• ProShot1000 capable (1Mbs/s)
• DShot150 to DShot600 capable (0.15-0.6Mbs/s)
• Up to 750,000 eRPM (protocol dependant)
• Motor agnostic
• Auto PWM output frequency
• Auto timing advance
• Telemetry output
• Automatic current limiting and over-temperature protection
• LED indication
• Digital commands over ProShot (including anti-turtle mode)
• Digital commands over DShot
• Bare-PCB design to allow maximum integration within the end setup
• 8-Layer PCB to ensure minimal track resistance
HIGH POWER BRUSHLESS SYSTEMS AND BATTERIES CAN CAUSE SERIOUS DAMAGE AND/OR INJURIES IF NOT USED PROPERLY.  USERS ACCEPT ALL RESPONSIBILITY FOR THE SETUP, USAGE, AND POSSIBLE DAMAGES THAT MAY RESULT FROM THEIR PROJECT. THIS POWER SYSTEM IS NOT FOR BEGINNERS.
THESE VOLTAGES AND AMPERAGES CAN CAUSE SERIOUS BODILY HARM INCLUDING BURNS AND ELECTROCUTION.
Peak power ratings defined at 100% throttle, where bus current = phase current. Requires proper sizing of motor to load.
(*) Continuous amps defined as amperage sustainable for 180 seconds with adequate cooling to keep ESC at or below 115C
(**) Burst amps defined as amperage sustainable without damage to controller for a period of 5 (five) seconds.  Burst should not be encountered again until ESC has returned to normal temperature
(***) Weight refers solely to the circuit board and enclosure, if any.  Weight measured without any wires or connectors.
Specifications subject to change without notice.