Suggested setup:
Prop: 22×12
Battery:12S x 5,000 mAh
RPM: 7,000
Watts: 4,200
ESC: Edge 120HV
Motor weight: 1,217g
IMAGE NOT EXACT. REFER TO DRAWING FOR DIMENSIONS.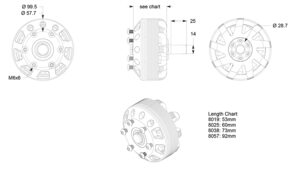 ECalc simulation — Don't forget to click "CALCULATE" button!
Looking for a different KV? Our Neumotors.com website has a broader listing of motor KVs.