Brushless motor for giant scale RC aircraft.
Typical setup:
PROP: 32 x 10
BATTERIES: 16S x 10,000+
ESC: APD 16S HVPro ESC
WEIGHT: 2,654g
PERFORMANCE: 6,000 RPM / 10,500 watts
Compares with 170cc 2 stroke engine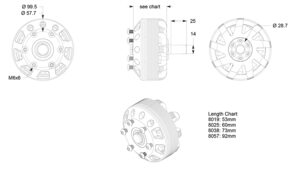 Looking for a different KV? Our Neumotors.com website has a broader listing of motor KVs.